Profile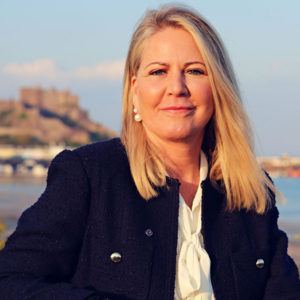 I was first elected to the States Assembly in 2002 by the Parish of Grouville, which I am privileged to continue to serve as Deputy. As well as representing my constituents to the best of my abilities, I have established, led, and taken a leading role in numerous community-based and Island-wide initiatives, some of which you can read about on this
website.
I have consistently stood on a platform of the Environment and the Economy, ensuring that we have a safe, prosperous and fair Island to pass down to our children. I am an advocate of renewable energy and green initiatives, and – as one of the longest-serving female Deputies in Jersey's history – I have championed efforts to increase the representation of women in public life. I have also taken a lead role in promoting the Island internationally, highlighting Jersey's unique contribution to culture,  heritage, education and development aid.
I am proud of what we have achieved as an Island over the years, and I hope you'll take a moment to read a bit more about my own contributions since the last election. However, I know there is a lot more work to be done. I hope to have the honour of serving another term as an elected representative, and to deploy my experience and dedication not just for the parishioners of Grouville and St Martin but for our wonderful Island as a whole.
Current responsibilities

States Member (2002 to date)  Official Government page
Deputy of Grouville & St Martin (2022 to date) (Previous Deputy of Grouville (2002 to 2022)  Grouville Parish page / St. Martin Parish page
Council of Ministers (2018 to date)
Minister for International Development (2018 – date)
Chair of the Commonwealth Parliamentary Association (CPA) Jersey branch (2018 – 2022) Official CPA page
Chair of Jersey Overseas Aid Commission (2014 – date)  JOA
Chair/Lead of the Island Identity Project (2019 to date) Island Identity
Bailiff's Consultative Panel (2002 to date)
Committee Member of PPC Political Education sub committee (2022 to date)