The Minister visits the British High Commission in Lusaka before a follow up visit to the Fisheries and Livestock Minister in Zambia following the signing of the MOU in Feb 2023. Later that week they together launched the Dairy project together.
The Minister followed her visit to Zambia by travelling to Malawi to meet the Minister for Agriculture and talk about JOA's projects in their country.
She then later addressed the Africa-Jersey Forum's third conference in Blantyre in Malawi.
Read Bailiwick Express coverage here: https://www.bailiwickexpress.com/jsy/news/conference-which-discusses-jersey-cows-africa-take-place/
Channel Eye coverage here: Jersey cows are main feature of conference in Africa – Channel Eye
YOU can be in the middle of nowhere in Africa and see a Jersey cow. It makes you think: "My Lord, how did you get here?!"
It would not be unreasonable to hold a moderate level of surprise at the number of countries infiltrated by one of the jewels in our island's crown. We are not talking about the world wide exportation of our dairy products – as distant as that may be – but the movement of "the Jersey" itself. Bovine friends with familiar Caesarean features can now be found in over 100nations across the globe, with concerted efforts to boost the genepool paying huge dividends to populations across the planet.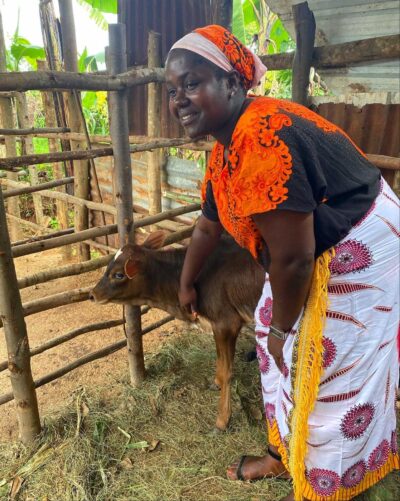 Jersey Overseas Aid (JOA) – the Island's official, publicly-funded, relief and development agency – is playing a crucial role and within that 100-plus-nation list sit a growing number of African regions benefiting from breeding programmes involving the Jersey (which has become the second most numerous dairy cow in the world).
Believe it or not, Jersey cattle were first imported into Africa, via South Africa, in the early1880s and over the last 140 years the breed's strongest characteristics have proved pivotal within the continent's dairy industry. JOA has aided that development in recent years and among those countries is Malawi, where programmes have been supported since 2018 and where the 2023 African Jersey Forum Conference is due to place, in both live and virtual form (27 to 29 June). The 2021 event – a virtual conference nominally held in Ethiopia but broadcast live from Jersey – attracted over 1,000 participants from across the globe.
The African Jersey Forum is an opportunity for breeders, farmers, ministries and local authorities to get together to talk about challenges, trends and share knowledge.
Rwanda and Ethiopia also have well-established projects, which are improving the lives of farmers and their local communities, and Zambia joined the JOA fold in 2022 to increase the roll-out of Jersey's renowned dairy programme to a fourth African country.
"Not many people know the scale and depth of JOAs work, other than our volunteering projects," JOAs Head of Programme, Edward Lewis , explained.
"Dairy is our flagship programme when it comes to development. The Jersey cow is a remarkably sturdy beast. They look very pretty but they're very hardy too – with a higher tolerance to disease and, somewhat surprisingly for a breed developed in Jersey's very temperate environment, climate challenges too.
"The breed will continue to produce consistent levels of milk at altitude and in fairly hot weather as well. The idea is to improve the productivity genetics of indigenous cattle in areas where there is high malnutrition and low economic scope, without losing the essential traits these indigenous breeds carry and one of the areas we've invested in is funding research to demonstrate why the Jersey is the breed of choice in this context.
"How do we improve livelihoods through using a Jersey cow? The answer is to take Jersey semen overseas and crossbreed it with indigenous cattle. There is a two-pronged benefit: the farmers can diversify their dairy products – butter, yoghurt, cheese, ghee – to sell in the markets; and there is also the nutritional side, with an increase in fat content

and milk quality, especially calcium, helping to prevent stunting, which is prevalent in children in these areas.
"Through one of our projects in Rwanda alone, it's estimated that a female Jersey calf is bornin the country every hour, transforming the lives of families living in poverty. It gives you an idea of the scale of what we can achieve." Jersey's Minister for International Development, Deputy Carolyn Labey, will be speaking at the third biennial Forum later this month.
"We are helping to dramatically improve milk yields through our programmes, contributing to the improved health and nutrition of smallholder dairy farmers, their families and communities and as a driver of economic development.
"The Jersey cow is proving to be highly effective in supporting development goals and it's wonderful that Jersey is playing a leading role in helping to transform impoverished communities across several countries."
Fact box
JOAs mission is to translate the generosity, skills and compassion of the people of Jersey into effective assistance for the world's most vulnerable people. JOA focuses its work in four key areas:
1. Long-term development projects (Dairy for Development, Financial Inclusion and Conservation Livelihoods, for knowledge sharing and funding)
2. Humanitarian and Emergency Aid (responding to manmade and natural disasters or conflict)
3. Jersey Overseas Charities (supporting local charities that operate overseas)
4. Volunteering, Bursaries and Career (including JOA internships and supporting Islanders through the United Nations Junior Professional Officer Scheme*).
*JOA currently has three Jersey residents in post with UNHCR [United Nations High Commissioner for Refugees], contributing to front-line humanitarian relief in Lebanon, Bangladesh and Egypt.