'Moo-MoU' Jersey cows help Zambia with Jersey Overseas Aid
February 23, 2022
Jersey's Minister for International Development Carolyn Labey signed an agreement today  with Zambia's Ministry of Fisheries and Livestock to roll out Jersey's renowned dairy aid  programme to a fourth African country.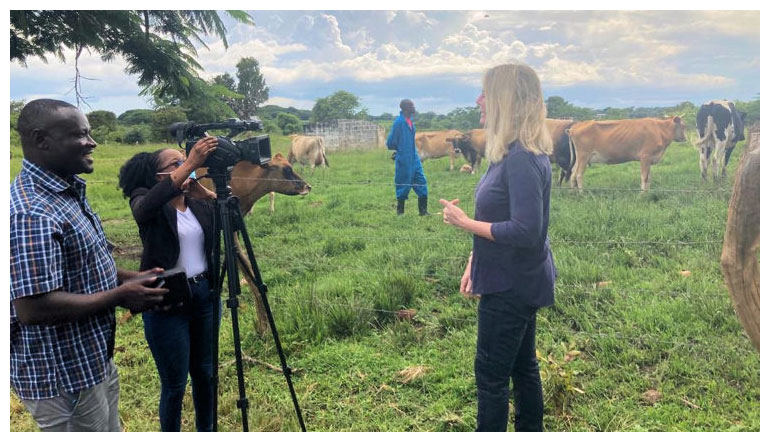 The Memorandum of Understanding (MOU) paves the way for Jersey Overseas Aid and its  partner the Royal Jersey Agricultural and Horticultural Society to begin work in Zambia  later this year. 
Jersey Overseas Aid (JOA) is the island's official, publicly-funded relief and development  agency. JOA's mission is to translate the generosity, skills and compassion of the people  of Jersey into effective assistance for the world's most vulnerable people. Click here for  more information on Jersey Overseas Aid. 
These dairy projects, centred around the Jersey cow but also including training for  farmers, have transformed milk yields for tens of thousands of smallholders in Rwanda,  Malawi and Ethiopia. In Rwanda alone, a female Jersey cross is born every hour.

Minister Labey commented "It is such a pleasure to see our beloved Jersey cow lift so  many people out of poverty, and I'm delighted we will now begin this work in Zambia." 
The first project is now being finalised, and will likely reach 10,000 poor families. 
Deputy Carolyn Labey also met JOA partner FSD Zambia, which with Jersey's support has  created over 4,000 savings groups for women in rural areas and is enabling 30,000  smallholder farmers to insure their livestock for the first time. 
Zambian television gave extensive coverage to Deputy Labey's visit, which marks the  growing cooperation and friendship between the two countries.