Tuesday, 12 February 2019
An independent review has concluded that it is reasonable for Jersey Electricity to impose standby charges on commercial customers which generate their own electricity – but it has raised wider issues regarding whether Jersey Electricity's current tariff model remains fit for the future.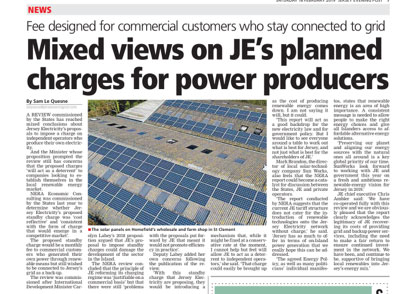 The report by Nera, which has been published today (Tuesday, 12 February 2019) was commissioned in response to the States' approval of P.88/2017. The proposition was lodged by Deputy Carolyn Labey, who sought to determine the impact that charging would have on the competitiveness of the market for the generation and supply of electricity.
Businesses which generate their own electricity using renewable energy sources (such as solar panels) will have times when they aren't able to
self-generate and have to draw on the island's electricity grid. Nera concludes that the principle of a standby charge is reasonable since the
grid provides a back-up service for all islanders, including those who generate their own electricity. However Nera makes several recommendations that, if implemented, would more accurately reflect each consumer's patterns of generation, export and self-consumption.
The Nera report concluded that Jersey Electricity's proposed standby charge was relatively conservative, but that there were wider issues to
be considered with the company's charging structure.
Deputy Labey said: "I am pleased that a review has been undertaken that leaves the door open to Jersey Electricity to choose whether or not
the standby charge is introduced. Personally, I would like to see all businesses and islanders being encouraged to use renewable energy sources, and I fear that standby charges will make renewable less financially attractive and will act as a deterrent. It is up to government now to decide how we encourage renewable energy.
"The findings have raised issues for the Island to consider, including ensuring that Jersey Electricity's tariff model and charging structure
remain fit for the future, and the next step – as agreed by the States – is for Government to define its position on renewable energy and for the
Electricity (Jersey) Law 1937 to be updated.
"The Nera report is a good step towards the Island creating an energy policy that is fit for the future, and I'm grateful to Jersey Electricity and
the many other stakeholders who participated. The next stage is for the Minister for the Environment, Deputy John Young, to consider how Jersey's renewable energy industry is advanced."
Deputy Young said: "This report provides a great deal of insight into what is a complex issue, and it enables us to understand our current position. We have to consider how the island will be powered in the future.
"In almost every area of our lives we are moving away from traditional centralised power sources to new sources of energy such as solar panels.
We have to ensure that we have a legislative framework that doesn't inhibit these technological developments, but also protects investment on
a central grid that provides back up for intermittent energy resources. I look forward to working with all stakeholders to determine how we
achieve that."